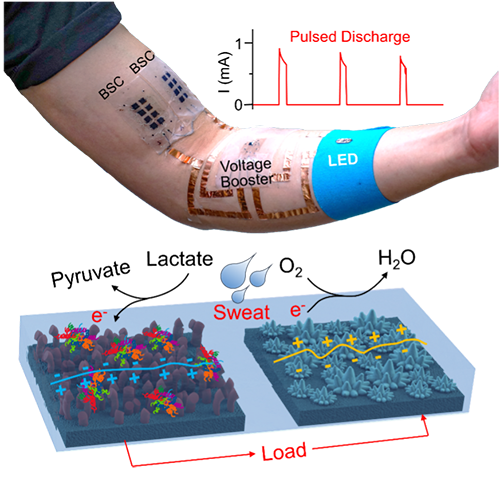 Self-charging biosupercapacitors (BSCs) that can store energy and be self-charged via chemical or solar energy conversion through bioreaction have recently attracted considerable attention. As human sweat also contains a high concentration of lactate biofuel, the harvesting and storage of the bioenergy in sweat holds the potential to provide the power for wearable electronics.
However, materials utilized in previous BSCs are either bulky, rigid, or fragile, and therefore cannot serve as suitable candidates for stretchable conformal wearable electronic devices. For a wearable BSC, the flexibility, stretchability, and skin conformity of the device are of considerable importance.
Prof. Joseph Wang's group in UC San Diego demonstrates the first example of an all-printed dual-functional stretchable and wearable BSC, fabricated on top of low-elastic modulus and adhesive elastic films, to harvest and store energy from sweat while maintaining intimate contact with the human skin.
This wearable hybrid device, functioning as both a biofuel cell and a supercapacitor, is demonstrated to deliver high-power pulses and be rapidly self-recharged using enzymatic oxidation of lactate biofuel from human perspiration.
This work enabled material-level integration of both functionalities on the same set of electrodes, thus reducing the system complexity and minimizing the device footprint.
Découvrez aussi
[Nanotechnology] – Visualizing Hydrogen Atoms in Titanium Hydride Nanomaterial Interface
23 février 2020
Physicists at the University of Groningen have now imaged hydrogen at the titanium/titanium hydride interface with the help of a transmission electron microscope.
Lire la suite
[Thin Films] – Ion Beam Deposition – Applications and Advantages
11 août 2019
This paper presents a review of Ion Beam Technology. In this review the main applications and advantages of using Ion Beam technology for deposition processes when compared to technology such as plasma or evaporation (PVD) will be presented. To start with, an overview of how an ion beam is generated will be described. This will then be followed by a presentation and discussion of some advantageous applications of ion beam technology.
Lire la suite