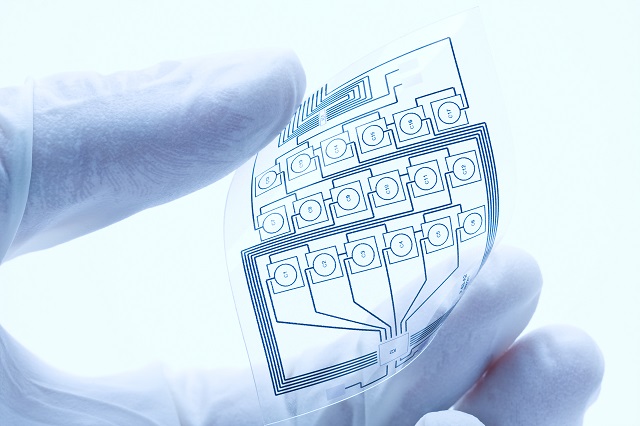 Graphene has been the focal point for many research projects in recent years. It has proved to be one the most diverse materials known to man and recently a team of researchers from Northwestern Engineering have stumbled upon a method of creating graphene ink while trying to discover a new method producing graphene.
Their aim was to preserve the conductivity of graphene by adding low-cost solvents such as ethanol and ethyl cellulose. They managed to create high concentration of graphene flakes and then realized this could be made into ink with further use of solvents.
The new material displayed properties such as good electric conductivity, high flexibility and optical transparency. Developers then started looking at how graphene ink could be used to create wearable / foldable technology.
To prove its versatility, a research team from Cambridge University printed a piano circuit board onto fabric using conductive graphene ink as well as a digital display onto a bendable plastic substrate.
The team have also proposed that this concept could be used for printing health monitoring circuit boards onto clothing.
Although widespread research is being conducted, many of the graphene ink related concepts are still in the lab. For instance, the Center for Graphene Science at the University of Exeter is working on printing circuits on to smart t-shirts, solar panel films and interactive smart-screens using the ink.
Looking Forward
Researchers are beginning to see the true potential of this amazing material. US-based company, Vorbeck has ventured into making graphene ink products a reality. They supply a range of VOR-INK™ products such as gravure, screen, and flexo that can be applied to using various printing methods onto specific substrates.
Other possible applications include:
Printing 3D circuit boards
Coatings and smart packaging
Heat sinks and sensors
Radio-frequency identification (RFID)
Plastic electronics, LCDs and flexible displays
Catalytic devices and OLED devices
E-Paper and transparent electrodes
Thin film photovoltaics
Electrochemical devices
Graphene phone displays that can be printed on human body
Researchers have proved that graphene ink can be printed in multiple layers with a thickness of just 14 nm, so as to create accurate patterns.
Graphene ink could be used to manufacture foldable electronic devices in the foreseeable future. It may also may help in the development of new wearable technology and offer a whole new generation of technology to customers.
Découvrez aussi
[Organic Electronic] – Probing Organic Solar Cells In Situ
21 août 2019
Researchers can optimize the performance of multi-layered, post-fabricated organic photovoltaic devices doped with gold nanoparticles by using combined X-ray diffraction and X-ray fluorescence.
Lire la suite
World's largest façade installed with organic photovoltaic panels
3 décembre 2018
Around 185 m2 of Heliatek's OPV films have been installed on a warehouse of inland port Duisburger Hafen.
With a total length of almost 600m, the largest organic photovoltaic façade installation so far has been installed in Germany using Heliatek's HeliaSol film panels.
Lire la suite