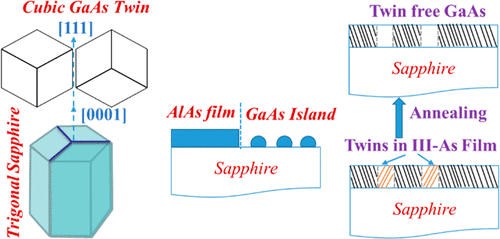 Crystalline zinc blende GaAs has been grown on a trigonal c-plane sapphire substrate by molecular beam epitaxy. The initial stage of GaAs thin film growth has been investigated extensively in this paper. When grown on c-plane sapphire, it takes (111) crystal orientation with twinning as a major problem. Direct growth of GaAs on sapphire results in three-dimensional GaAs islands, almost 50% twin volume, and a weak in-plane correlation with the substrate. Introducing a thin AlAs nucleation layer results in complete wetting of the substrate, better in-plane correlation with the substrate, and reduced twinning to 16%. Further, we investigated the effect of growth temperature, pregrowth sapphire substrate surface treatment, and in-situ annealing on the quality of the GaAs epilayer. We have been able to reduce the twin volume below 2% and an X-ray diffraction rocking curve line width to 223 arcsec. A good quality GaAs on sapphire can result in the implementation of microwave photonic functionality on a photonic chip.
Discover Also
[Photonic] – Plasmonic-Photonic Crystals Studied to Further Sensor, Laser Research
20 August 2019
As part of their research into optical states of plasmonic-photonic crystals (PPCs), scientists at Kazan Federal University investigated three-dimensional opal-like plasmonic-photonic crystals (OLPPCs), focusing on why OLPPCs do not admit light of certain wavelengths.
Read more
[Nanotechnology] – The Year of the Periodic Table – What Elements Are Commonly Used as Nanoparticles ?
12 August 2019
It has been 150 years since Dmitri Mendeleev first published his Periodic Table of the Elements. Since then, the iconic image has become a vital tool for everyone learning and working in science.
Read more