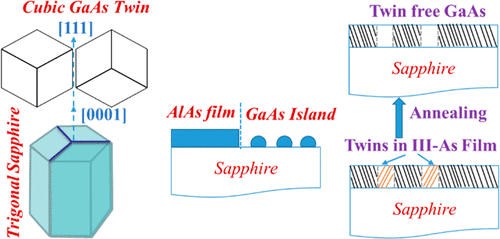 Crystalline zinc blende GaAs has been grown on a trigonal c-plane sapphire substrate by molecular beam epitaxy. The initial stage of GaAs thin film growth has been investigated extensively in this paper. When grown on c-plane sapphire, it takes (111) crystal orientation with twinning as a major problem. Direct growth of GaAs on sapphire results in three-dimensional GaAs islands, almost 50% twin volume, and a weak in-plane correlation with the substrate. Introducing a thin AlAs nucleation layer results in complete wetting of the substrate, better in-plane correlation with the substrate, and reduced twinning to 16%. Further, we investigated the effect of growth temperature, pregrowth sapphire substrate surface treatment, and in-situ annealing on the quality of the GaAs epilayer. We have been able to reduce the twin volume below 2% and an X-ray diffraction rocking curve line width to 223 arcsec. A good quality GaAs on sapphire can result in the implementation of microwave photonic functionality on a photonic chip.
Discover Also
[Nano-Medecine] – Newly developed nanoparticles help fight lung cancer in animal model
26 November 2019
Scientists have reported a new approach to treating lung cancer with inhaled nanoparticles developed at Wake Forest School of Medicine, part of Wake Forest Baptist Health.
Read more
[Nanotechnology] – Something from nothing: Using waste heat to power electronics
22 February 2020
Collecting energy from environmental waste heat such as that lost from the human body is an attractive prospect to power small electronics sustainably. A thermocell is a type of energy-harvesting device that converts environmental heat into electricity through the thermal charging effect.
Read more