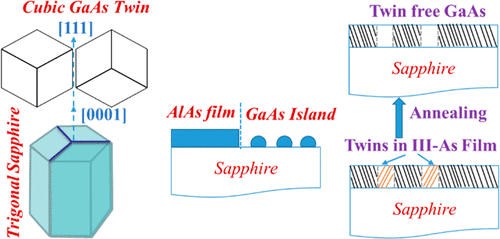 Crystalline zinc blende GaAs has been grown on a trigonal c-plane sapphire substrate by molecular beam epitaxy. The initial stage of GaAs thin film growth has been investigated extensively in this paper. When grown on c-plane sapphire, it takes (111) crystal orientation with twinning as a major problem. Direct growth of GaAs on sapphire results in three-dimensional GaAs islands, almost 50% twin volume, and a weak in-plane correlation with the substrate. Introducing a thin AlAs nucleation layer results in complete wetting of the substrate, better in-plane correlation with the substrate, and reduced twinning to 16%. Further, we investigated the effect of growth temperature, pregrowth sapphire substrate surface treatment, and in-situ annealing on the quality of the GaAs epilayer. We have been able to reduce the twin volume below 2% and an X-ray diffraction rocking curve line width to 223 arcsec. A good quality GaAs on sapphire can result in the implementation of microwave photonic functionality on a photonic chip.
Discover Also
[Graphene] – Growing large-area single-grain graphene layers
16 February 2021
In the background material to his Nobel Prize talk in 2010, Prof. Geim illustrated the strength of graphene with his now famous cat hammock example : The unit hexagonal cell of graphene contains two carbon atoms and has an area of 0.052 nm2. That translates into a density of 0.77 mg/m2. A hypothetical hammock measuring one square meter made from graphene would thus weigh 0.77 mg.
Read more
[Thin-Films] – Scientists create thin-films with tantalizing electronic properties
15 May 2020
Scientists have created thin films made from barium zirconium sulfide (BaZrS3) and confirmed that the materials have alluring electronic and optical properties predicted by theorists.
Read more