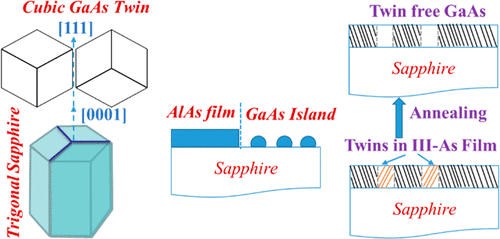 Crystalline zinc blende GaAs has been grown on a trigonal c-plane sapphire substrate by molecular beam epitaxy. The initial stage of GaAs thin film growth has been investigated extensively in this paper. When grown on c-plane sapphire, it takes (111) crystal orientation with twinning as a major problem. Direct growth of GaAs on sapphire results in three-dimensional GaAs islands, almost 50% twin volume, and a weak in-plane correlation with the substrate. Introducing a thin AlAs nucleation layer results in complete wetting of the substrate, better in-plane correlation with the substrate, and reduced twinning to 16%. Further, we investigated the effect of growth temperature, pregrowth sapphire substrate surface treatment, and in-situ annealing on the quality of the GaAs epilayer. We have been able to reduce the twin volume below 2% and an X-ray diffraction rocking curve line width to 223 arcsec. A good quality GaAs on sapphire can result in the implementation of microwave photonic functionality on a photonic chip.
Discover Also
[JNPV] – Codex International : main Partner of Photovoltaïc National days.
19 November 2021
Codex International will participate to the 11th edition of JNPV (Photovoltaïc National Days) as a main sponsor. This event will take place from November 30th to December 3rd at the Belambra club of Dourdan (91, France).
Read more
[Nanotechnology] – Next generation electronics: Expanding the possibilities with silver nanowires.
17 September 2021
Today's nanoscale technologies are sophisticated enough to be applied in an endless number of useful devices, from sensors in touch screen devices and household appliances to …
Read more