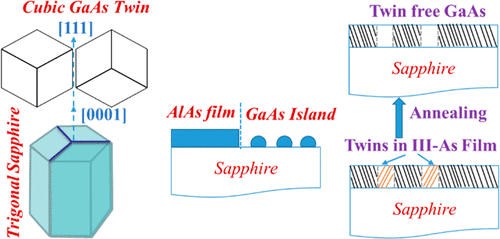 Crystalline zinc blende GaAs has been grown on a trigonal c-plane sapphire substrate by molecular beam epitaxy. The initial stage of GaAs thin film growth has been investigated extensively in this paper. When grown on c-plane sapphire, it takes (111) crystal orientation with twinning as a major problem. Direct growth of GaAs on sapphire results in three-dimensional GaAs islands, almost 50% twin volume, and a weak in-plane correlation with the substrate. Introducing a thin AlAs nucleation layer results in complete wetting of the substrate, better in-plane correlation with the substrate, and reduced twinning to 16%. Further, we investigated the effect of growth temperature, pregrowth sapphire substrate surface treatment, and in-situ annealing on the quality of the GaAs epilayer. We have been able to reduce the twin volume below 2% and an X-ray diffraction rocking curve line width to 223 arcsec. A good quality GaAs on sapphire can result in the implementation of microwave photonic functionality on a photonic chip.
Discover Also
[Nanocatalyst] – New nanocatalyst recycles greenhouse gases into fuel and hydrogen gas
21 February 2020
Scientists have taken a major step toward a circular carbon economy by developing a long-lasting, economical catalyst that recycles greenhouse gases into ingredients that can be used in fuel, hydrogen gas, and other chemicals. The results could be revolutionary in the effort to reverse global warming, according to the researchers.
Read more
[Optic] – Light in Sight: Micro-Lenses Enhance the Functionality of Future Cars
26 November 2019
Technological advancements have led to incredible break throughs in the automotive industry, such as self-driving and environmentally compliant vehicles. Now, a new development from EDL Rethschulte, which specializes in lighting design, has the potential to change the view of and from the car through a novel micro-lens array (MLA) wafer technology, which allows for the production of extremely compact and light LED projectors the size of a thimble.
Read more