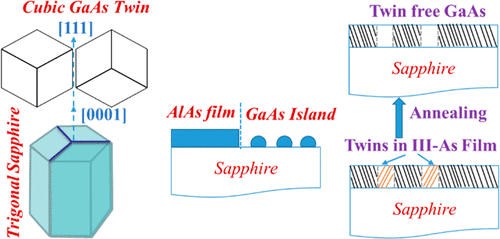 Crystalline zinc blende GaAs has been grown on a trigonal c-plane sapphire substrate by molecular beam epitaxy. The initial stage of GaAs thin film growth has been investigated extensively in this paper. When grown on c-plane sapphire, it takes (111) crystal orientation with twinning as a major problem. Direct growth of GaAs on sapphire results in three-dimensional GaAs islands, almost 50% twin volume, and a weak in-plane correlation with the substrate. Introducing a thin AlAs nucleation layer results in complete wetting of the substrate, better in-plane correlation with the substrate, and reduced twinning to 16%. Further, we investigated the effect of growth temperature, pregrowth sapphire substrate surface treatment, and in-situ annealing on the quality of the GaAs epilayer. We have been able to reduce the twin volume below 2% and an X-ray diffraction rocking curve line width to 223 arcsec. A good quality GaAs on sapphire can result in the implementation of microwave photonic functionality on a photonic chip.
Discover Also
[Thin films] – Catalyst deposition on fragile chips
22 February 2020
Researchers at the Ruhr-Universität Bochum (RUB) and the University of Duisburg-Essen have developed a new method of depositing catalyst particles to tiny electrodes. It is inexpensive, simple and quick to perform.
Read more
Groupe De Recherche OXYFUN
26 June 2019
Depuis 2014 Codex International est partenaire industriel du groupe de travail Oxyfun qui regroupe pour la période 2018-2022, 52 laboratoires académiques (90 équipes) avec plus de 660 participants (460 permanents et 200 doctorants).
Read more