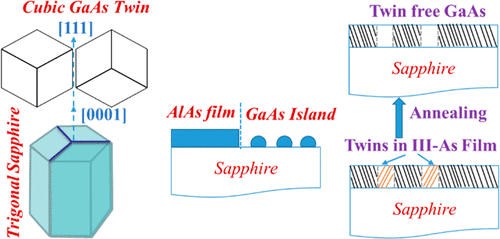 Crystalline zinc blende GaAs has been grown on a trigonal c-plane sapphire substrate by molecular beam epitaxy. The initial stage of GaAs thin film growth has been investigated extensively in this paper. When grown on c-plane sapphire, it takes (111) crystal orientation with twinning as a major problem. Direct growth of GaAs on sapphire results in three-dimensional GaAs islands, almost 50% twin volume, and a weak in-plane correlation with the substrate. Introducing a thin AlAs nucleation layer results in complete wetting of the substrate, better in-plane correlation with the substrate, and reduced twinning to 16%. Further, we investigated the effect of growth temperature, pregrowth sapphire substrate surface treatment, and in-situ annealing on the quality of the GaAs epilayer. We have been able to reduce the twin volume below 2% and an X-ray diffraction rocking curve line width to 223 arcsec. A good quality GaAs on sapphire can result in the implementation of microwave photonic functionality on a photonic chip.
Découvrez aussi
[Nano-Medecine] – Structurally designed DNA star creates ultra-sensitive test for dengue virus
26 novembre 2019
By folding snippets of DNA into the shape of a five-pointed star using structural DNA nanotechnology, researchers have created a trap that captures Dengue virus as it floats in the bloodstream. Once sprung, the trap – which is non-toxic and is naturally cleared from the body – lights up. It's the most sensitive test for the mosquito-borne diseases yet devised.
Lire la suite
[Optoelectronics] – Printing solar cells and batteries on paper
8 avril 2019
Over the past ten years, paper has emerged as a focus area for researchers developing innovative techniques for printed basic electronics components. The goal of this research is to replace plastic substrates with low-cost, versatile and sustainable materials.
Lire la suite