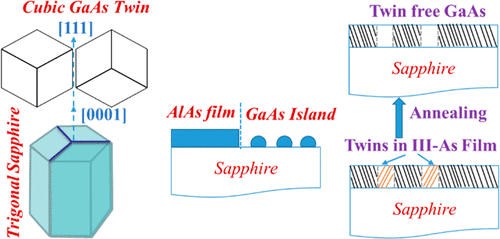 Crystalline zinc blende GaAs has been grown on a trigonal c-plane sapphire substrate by molecular beam epitaxy. The initial stage of GaAs thin film growth has been investigated extensively in this paper. When grown on c-plane sapphire, it takes (111) crystal orientation with twinning as a major problem. Direct growth of GaAs on sapphire results in three-dimensional GaAs islands, almost 50% twin volume, and a weak in-plane correlation with the substrate. Introducing a thin AlAs nucleation layer results in complete wetting of the substrate, better in-plane correlation with the substrate, and reduced twinning to 16%. Further, we investigated the effect of growth temperature, pregrowth sapphire substrate surface treatment, and in-situ annealing on the quality of the GaAs epilayer. We have been able to reduce the twin volume below 2% and an X-ray diffraction rocking curve line width to 223 arcsec. A good quality GaAs on sapphire can result in the implementation of microwave photonic functionality on a photonic chip.
Découvrez aussi
|Nanotechnology] – Small world: atom-scale materials are the next tech frontier
22 février 2020
Every age in the history of human civilisation has a signature material, from the Stone Age, to the Bronze and Iron Ages. We might even call today's information-driven society the Silicon Age.
Since the 1960s, silicon nanostructures, the building-blocks of microchips, have supercharged the development of electronics, communications, manufacturing, medicine, and more.
Lire la suite
[Nano-Medecine] – Plant-based relatives of cholesterol boosts nanoparticle gene therapy
21 février 2020
Gene-infused nanoparticles used for combating disease work better when they include plant-based relatives of cholesterol because their shape and structure help the genes get where they need to be inside cells.
Lire la suite