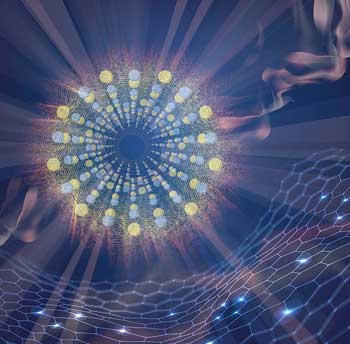 Researchers at Purdue University have engineered ceramic "nanotubes" that behave as thermal antennas, offering control over the spectrum and direction of high-temperature heat radiation.
The work is published in Nano Letters (« High-Temperature Polaritons in Ceramic Nanotube Antennas »). An illustration of the ceramic nanotubes will be featured as the journal's supplementary cover in a forthcoming issue.
"By controlling radiation at these high temperatures, we can increase the lifetime of the coating. The performance of the engine would also increase because it could be kept hotter with more isolation for longer periods of time," said Zubin Jacob, an associate professor of electrical and computer engineering at Purdue.
The work is part of a larger search in the field for a wide range of materials that can withstand higher temperatures. In 2016, Jacob's team developed a thermal "metamaterial" – made of tungsten and hafnium oxide – that controls heat radiation with the intention of improving how waste heat is harvested from power plants and factories.
A new class of ceramics would expand on ways to more efficiently use heat radiation.
Jacob's team, in collaboration with Purdue professors Luna Lu and Tongcang Li, built nanotubes out of an emerging ceramic material called boron nitride, known for its high thermal stability.
These boron nitride nanotubes control radiation through oscillations of light and matter, called polaritons, inside the ceramic material. High temperatures excite the polaritons, which the nanotubes – as antennas – then couple efficiently to outgoing heat radiation.
The antennas could bring the ability to accelerate the radiation, perform enhanced cooling of a system or send information in very specific directions or wavelengths, Jacob said.
The researchers plan to engineer more ceramic materials with polaritonic features for a host of different applications.
"Polaritonic ceramics can be game changing and we want them to be used widely," Jacob said.
Découvrez aussi
[Thin-Films] – Epitaxially-grown molybdenum oxide advances as a bulk-like 2D dielectric layer
26 novembre 2019
Since the successful isolation of graphene from bulk graphite, remarkable properties of graphene have attracted many scientists to the brand-new research field of 2D materials. However, despite excellent carrier mobility of graphene, direct application of graphene to field-effect transistors is severely hindered due to its gapless band structure. Alternatively, semiconducting transition metal dichalcogenides (TMDCs) have been focused intensively over the last decade. However, wide bandgap 2D materials with > 3 eV have been required for UV-related optoelectronic devices, power electronics, and dielectric layers.
Lire la suite
[Nano-Medecine] – Plant-based relatives of cholesterol boosts nanoparticle gene therapy
21 février 2020
Gene-infused nanoparticles used for combating disease work better when they include plant-based relatives of cholesterol because their shape and structure help the genes get where they need to be inside cells.
Lire la suite