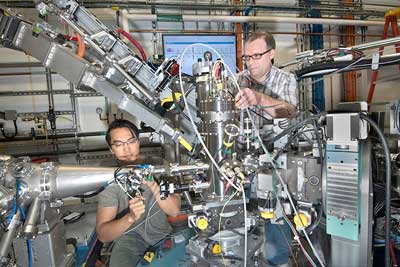 From paint on a wall to tinted car windows, thin films make up a wide variety of materials found in ordinary life. But thin films are also used to build some of today's most important technologies, such as computer chips and solar cells. Seeking to improve the performance of these technologies, scientists are studying the mechanisms that drive molecules to uniformly stack together in layers—a process called crystalline thin film growth. Now, a new research technique could help scientists understand this growth process better than ever before.
Researchers from the University of Vermont, Boston University, and the U.S. Department of Energy's (DOE) Brookhaven National Laboratory have demonstrated a new experimental capability for watching thin film growth in real-time. Using the National Synchrotron Light Source II (NSLS-II)—a DOE Office of Science User Facility at Brookhaven—the researchers were able to produce a "movie" of thin film growth that depicts the process more accurately than traditional techniques can.
Like building a brick wall, thin films "grow" by stacking in overlapping layers. In this study, the scientists focused on the growth process of a nanomaterial called C60, which is popular for its use in organic solar cells.
"C60 is a spherical molecule that has the structure of a soccer ball," said University of Vermont physicist Randall Headrick, lead author of the research. "There is a carbon atom at all of the corners where the 'black' and 'white' patches meet, for a total of 60 carbon atoms."
Though spherical C60 molecules don't perfectly fit side-by-side like bricks in wall, they still create a uniform pattern.
"Imagine you have a big bin and you fill it with one layer of marbles," Headrick said. "The marbles would pack together in a nice hexagonal pattern along the bottom of the bin. Then, when you laid down the next layer of marbles, they would fit into the hollow areas between the marbles in the bottom layer, forming another perfect layer. We're studying the mechanism that causes the marbles, or molecules, to find these ordered sites."
But in real life, thin films don't stack this evenly. When filling a bin with marbles, for example, you may have three layers of marbles on one side of the bin and only one layer on the other side. Traditionally, this nonuniformity in thin films has been difficult to measure.
"In other experiments, we could only study a single crystal that was specially polished so the whole surface behaved the same way at the same time," Headrick said. "But that is not how materials behave in real life."`
Découvrez aussi
[Graphene] – Enhancing the performance of perovskite solar cells with 'graphene armor'.
20 octobre 2021
A team of researchers has come up with a novel electrode that could greatly improve the stability of perovskite solar cells (PSCs), the most promising candidate for the next generation solar cells due to …
Lire la suite
[Nanotechnology] – Using In Situ Liquid TEM to Characterize the Size, Shape and Composition of Nanomaterials
12 novembre 2019
Nanoparticle-based materials are frequently utilized in a variety of applications such as drug delivery, energy production, and catalysis. The shape, composition, and size of nanoparticles has a significant influence on their performance, so producing controllable manufacturing systems is crucial to the commercialization of the latest nanomaterials.
Lire la suite