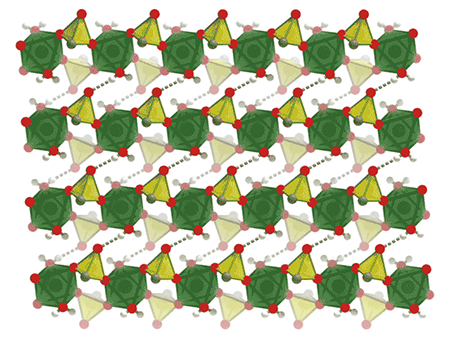 Stacking extremely thin films of material on top of each other can create new materials with exciting new properties. But the most successful processes for building those stacks can be tedious and imperfect, and not well suited for large-scale production.
Now a team led by Stanford Professor Hemamala Karunadasa has created a much simpler and faster way to do it. They grew 2D layers of one of the most sought-after materials, known as perovskites, interleaved with thin layers of other materials in large crystals that assemble themselves.
The assembly takes place in vials where the chemical ingredients for the layers tumble around in water, along with barbell-shaped molecules that direct the action. Each end of a barbell carries a template for growing one type of layer. As the layers crystallize – a process similar to making rock candy — the barbells automatically link them together in the proper order.
"What's really cool is that these complex layered materials spontaneously crystallize," said Michael Aubrey, who was a postdoctoral researcher in Karunadasa's lab at the time of the study.
The researchers say their method lays the foundation for making a wide array of complex semiconductors in a much more deliberate way, including combinations of materials that have not been known to pair up in crystals before. They described the work in a paper published in Nature.
"We are pretty thrilled about this general strategy that can be expanded to so many kinds of materials," said Karunadasa, who is an investigator with the Stanford Institute for Materials and Energy Sciences (SIMES) at the Department of Energy's SLAC National Accelerator Laboratory.
"Rather than manipulating materials one layer at time," she said, "we're just throwing the ions into a pot of water and letting the ions assemble the way they want to assemble. We can make grams of this stuff, and we know where the atoms are in the crystals. This level of precision allows me to know what the interfaces between the layers really look like, which is important for determining the material's electronic structure – how its electrons behave"
Découvrez aussi
[Nano-Medecine] – Wearable medical sensors to get major sensitivity boost
22 février 2020
Biosensors integrated into smartphones, smart watches, and other gadgets are about to become a reality. In a paper featured on the cover of the January issue of Sensors (« Vertically Coupled Plasmonic Racetrack Ring Resonator for Biosensor Applications »), researchers from the Moscow Institute of Physics and Technology describe a way to increase the sensitivity of biological detectors to the point where they can be used in mobile and wearable devices. The study was supported by the Russian Science Foundation.
Lire la suite
[Energy-Storage] – Engineering 2D nanofluidic channels for energy storage application.
30 juillet 2021
Lire la suite