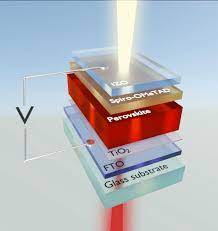 A team led by Prof. HU Linhua at the Hefei Institutes of Physical Science of the Chinese Academy of Sciences (CAS) has recently developed a type of self-healing perovskite solar cell by functional combination of polyvinylpyrrolidone (PVP).
Related results were published in Journal of Energy Chemistry (« Improved crystallinity and self-healing effects in perovskite solar cells via functional incorporation of polyvinylpyrrolidone »).
These solar cells have shown amazing humidity stability and self-healing behavior after 500 hours of operation, according to the researchers.
Organic-inorganic hybrid perovskite solar cells are considered as a competitive alternative to conventional silicon solar cells. However, they are prone to degrade when exposed to air. Scientists have been working to make them stable and better self-healing to resist harsh operating environments.
Air moisture is the key issue for perovskites. It invades the films and accelerates the damage of devices. Therefore, the researchers introduced PVP to the methylammonium lead iodide perovskite precursor. It can control crystal growth and endow the devices with self-healing ability in a moisture environment.
PVP is a polymer with many carbonyl groups. When it was introduced in perovskite solar cells, it acted as a « protective armor with an automatic blood backflow effect » against water vapor.
In addition, PVP can improve crystal growth with fewer defects and larger grains.
Découvrez aussi
[Nanotechnology] – Ultra-small nanoprobes could be a leap forward in high-resolution human-machine interfaces
3 août 2019
Machine enhanced humans — or cyborgs as they are known in science fiction — could be one step closer to becoming a reality, thanks to new research Lieber Group at Harvard University, as well as scientists from University of Surrey and Yonsei University.
Lire la suite
[Semiconductor] – Suppressing the Auger recombination process in quantum dots.
5 janvier 2022
A Quantum Dot (QD) is a nanometer-sized semiconductor nanocrystal that has unique optical properties such as the ability to emit light in the range of optical frequencies depending on its size. QDs have already been applied to practical optoelectronic applications including light-emitting displays, solar cells, photodetectors, and lasers.
Lire la suite