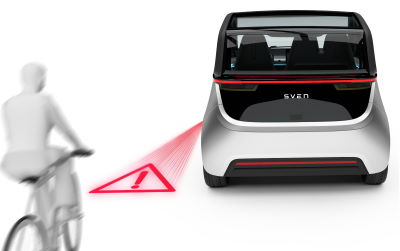 The MLA technology can project images or graphics from almost any angle onto any surface without distortion. This opens up a range of possibilities, for instance, improved safety and vehicle function, as well as innovative design effects, which are already being implemented in trials and offer the driver improved guidance capabilities. An interesting example comes in making drivers aware of the presence of electric vehicles, which move almost silently and are therefore not always noticeable if not in plain view; this new technology could make other road users aware of them with projections on the road surface.
According to the German company, lighting design is gaining importance not only for applications in the automotive industry, but in brand differentiation and public safety. "Future applications could be to project graphics onto the street to increase traffic safety," says Philipp von Trotha, Business Development Manager at EDL Rethschulte. "The same applies to the use of light-based assistance systems for the driver in the interior. The advantages of MLA technology in a very limited space and its potential for the development of lighting design concepts for car manufacturers are further aspects that make the range of applications of this technology interesting."
EDL has patented their 3D MLA technology, which is already being successfully used in the advertising market. It consists of numerous micro-lenses the size of a match head; on the surface of a square meter, that is 253,000 lenses manufactured with an accuracy of under 1µm. During manufacturing, the image information is delivered by an LED exposure unit patented by EDL, which ensures precise orientation.
Whereas previous 3D processes for displays rely mostly on holography and auto stereoscopy, EDL's patent is based on light field technology. It can be used to produce high-quality 3D images that can be seen without the need for glasses or other aids.
"The biggest challenge of MLA technology is the series suitability in the automotive cycle," says von Trotha. "The requirements in terms of performance and durability are particularly high here."
MLA technology incorporates a special film located behind the micro-lenses, and is capable of storing large quantities of data. This is necessary because each of the 253,000 lenses is capable of displaying a full image made up of 65,000 pixels, which deviates by a few thousandths from its neighbor, projecting objects approximately 1 meter away from the display.
This new and innovative technology has exciting and numerous applications, with futuristic developments for the automotive sector in particular. von Trotha adds, "In the vehicle cockpit of the future, it will be possible to create holographic operation elements, such as a three-dimensional controller or switch projected virtually from the center console, which the driver can comfortably operate by hand and are captured by sensors."
Découvrez aussi
[Nanotechnology] – Semiconductors in Nanotechnology – How Does Getting Smaller Benefit Them?
12 août 2019
For the past several decades, scientists have been experimenting with the potential benefits that nanomaterials, particularly carbon nanotubes, could offer semiconductors. As researchers develop methods to further reduce the size of semiconductor materials, dramatic improvements in the physical and chemical properties of these materials continue to arise. In conclusion, minimizing the size of semiconductor materials has been shown to maximize the performance of semiconductors for their application in a wide range of material applications.
Lire la suite
[Perovskites] -Perovskites reveal huge resettable single-photon response
23 février 2020
Despite the progress in perovskite device efficiencies, these systems are not fully understood, in particular the frequency- and power-dependence of their response to light. Yu-Hwa Lo and colleagues at the University of California in San Diego (UCSD) now report on systematic investigations of how these devices respond to light for frequencies varying over eight orders of magnitude and power ranging from millions to single photons.
Lire la suite