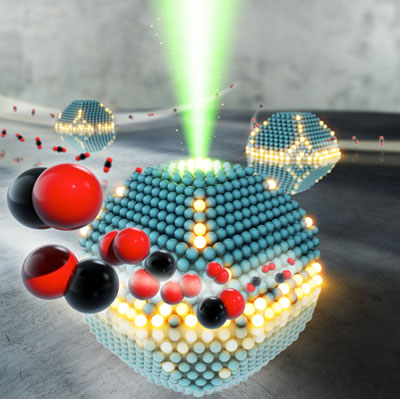 Catalytic metal nanoparticles supported on oxide substrates are used on a large scale in technological applications such as production of chemicals, abatement of air pollution and sustainable energy systems. The overall performance and durability of these systems is influenced by a range of factors, and every improvement could result in noticeable environmental and economic benefits.
By combining advanced high-precision electron microscopy and computational methods, researchers at the Competence Centre for Catalysis at Chalmers University of Technology in Gothenburg, Sweden, have shed new light on the role of strain in nanoparticle catalysis. Their article was recently published in Nature Communications.
Strain, which is a variation of interatomic distances, changes locally the chemical properties of nanoparticles and has previously been suggested as a potential dial for tweaking catalytic performance.
"With this study we pushed the boundaries by experimentally measuring the spatial distribution of nanoparticle strain with picometer precision and using this data as an input for simulations of carbon monoxide oxidation over strained platinum nanoparticles. One of the most interesting results is the considerably higher magnitude of strain at the interfaces between the nanoparticles and the oxide substrate. Our simulations show that the experimentally observed strain is highly relevant and could be used to improve catalytic performance," says Torben Nilsson Pingel, one of the co-first authors.
For atoms in a perfect single crystalline material that are completely surrounded in all directions by a defect free crystal lattice, there is no strain. However, when the perfect crystal lattice is altered by introducing defects, surfaces, or other materials, the atomic bonding near these alterations can change and different amounts of strain can be introduced.
"Supported catalytic nanoparticles are prototypical examples of this because they can have all three of these crystal lattice modifications," says Andrew Yankovich, another co-first author on the paper.
"For this study, we experimentally measured these extremely small variations in inter atomic distances that are created by the nanoparticle surfaces, crystal defects, and interfaces. To do this, we further developed state-of-the-art high precision STEM imaging techniques to overcome the typical precision limitations of this technique and reduce the measurement uncertainty enough to detect strains below 1%. Our measurements are giving us new views into the complex behavior of strain in these catalytic nanoparticle systems, and this information will spark novel ideas on how strain can be controlled and utilized," says Yankovich.
Découvrez aussi
[Nanotechnology] – Optimization of mRNA containing nanoparticles.
4 janvier 2022
The research neutron source Hein Maier-Leibnitz (FRM II) at the Technical University of Munich (TUM) is playing an important role in the investigation of mRNA nanoparticles similar to the ones used in the Covid-19 vaccines from vendors BioNTech and Moderna. Researchers at the Heinz Maier-Leibnitz Zentrum (MLZ) used the high neutron flux available in Garching to characterize various formulations for the mRNA vaccine and thus to lay the groundwork for improving the vaccine's efficacy.
Lire la suite
[CVD] – Controlling the Orientation, Edge Geometry and Thickness of CVD Graphene
3 novembre 2020
Creating defect-free sheets of Graphene is said to be one of the main 'hurdles' in the search for wide scale commercialization of the material… but why is it so important to form large defect free sheets?
Graphene has received an astonishing amount of interest these past few years, so much so that now it is commonly referred to as the miracle material that's predicted to revolutionize the 21st century.
Lire la suite