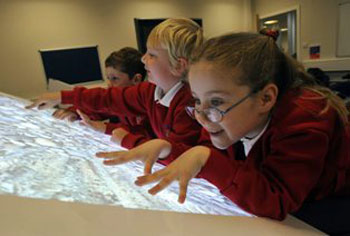 Just like other industry sectors, the furniture industry is trying to get more efficient by minimizing material use, minimizing waste, and optimizing energy consumption while improving the performance of their products.
Nanotechnology and nanomaterials can play an important role in achieving these goals. In the near future, using nanomaterials in furniture may lead to a reduced need for adhesives and functional textiles. Expect to see « smart » furniture – furniture that heats itself when it's cold; becomes opaque when the sun is shining intensely; changes color upon demand; measures core body functions; has antibacterial coatings that get activated on contact or self-healing coatings to repair scratches and minor damage; has embedded electronics that for instance signals you when you run out of food supplies; or includes shape memory alloys that change their shape.
Things like « smart carpets » that could help prevent falls or « Star Trek Classroom » with the next generation of school desks are already on their way.
A recent joint project by the European Federation of Building and Woodworkers(EFBWW), the European Furniture Manufacturers Federation (UEA) and the European Furniture Industries Federation (EFIC) mapped current uses and near future perspective on nanomaterials in the European furniture sector. It looked at innovative materials and potentials of nanotechnology that may positively affect the furniture sector; it also considered possible health risks and steps towards workplace prevention strategies following the precautionary principle.
The findings have been published in a report that is available as a free PDF download. The project results are also documented in three fact sheets on the current use of nanomaterials in the furniture sector, the availability and use of information on nano-containing products and the safe work with nanomaterials and possible prevention strategies.
The report doesn't go into the more future-oriented « smart » furniture products mentioned above. It looks at material or product enhancement based on nanomaterials such as for instance the production of more durable wood, stronger and more durable concrete, special textiles etc. It also reviews improved and functionalized nanocoatings that find applications in the furniture industry:
Over the last years, nanotechnology has been applied to develop and produce different types of glass, i.e. non-reflectivity glass, privacy-glass, thermal isolation glass (based on InfraRed light reflection or absorption) and biocidal glass. There are many applications thinkable that could make use of these. Think about i.e. glass-cabinets, lamps, tables, office furniture or medical furniture. However, according to large market players like Saint-Gobain and Pilkinton, their market penetration into furniture is low. In those cases where the material is used, the glass parts of the furniture are shaped and processed by the glass-manufacturer. The furniture manufacturer assembles the final furniture product.
Researchers have already managed to develop « multifunctional » glass that is based on surface nanotextures that produce an array of conical features, is self-cleaning and resists fogging and glare.
Not strictly furniture, but window glass provides a huge area for using nanotechnologies to improve functionality, for instance by generating electricity from outside heat.
Découvrez aussi
[Thin-Films] – Multidirectional MEMS thin-film sensor improves efficiencies of industrial-scale fluid machinery
19 octobre 2022
The energy and transportation sector often make use of different kinds of fluid machinery, including pumps, turbines, and aircraft engines, all of which entail a high carbon footprint. This result mainly from inefficiencies in the fluid machinery caused by flow separation around curved surfaces, which are typically quite complex in nature.
Lire la suite
[Nanotechnology] – Something from nothing: Using waste heat to power electronics
22 février 2020
Collecting energy from environmental waste heat such as that lost from the human body is an attractive prospect to power small electronics sustainably. A thermocell is a type of energy-harvesting device that converts environmental heat into electricity through the thermal charging effect.
Lire la suite