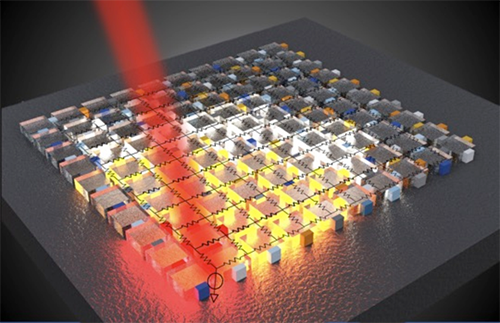 Analog photonic solutions offer unique opportunities to address complex computational tasks with unprecedented performance in terms of energy dissipation and speeds, overcoming current limitations of modern computing architectures based on electron flows and digital approaches.
In a new study published in the journal Nature Communications Physics (« Approximate analog computing with metatronic circuits »), researchers led by Volker Sorger, an associate professor of electrical and computer engineering at the George Washington University, reveal a new nanophotonic analog processor capable of solving partial differential equations.
Researchers at the George Washington University have developed a nanophotonic analog accelerator to solve challenging engineering and science problems, known as partial differential equations, in fractions of a second.
This nanophotonic processor can be integrated at chip-scale, processing arbitrary inputs at the speed of light.
Découvrez aussi
[Perovskite] – Scientists find ways to help perovskite solar cell 'self-healing'.
4 janvier 2022
A team led by Prof. HU Linhua at the Hefei Institutes of Physical Science of the Chinese Academy of Sciences (CAS) has recently developed a type of self-healing perovskite solar cell by functional combination of polyvinylpyrrolidone (PVP).
Lire la suite
[Nanotechnology] – Decorating iron nanocubes with gold increases their functionality
26 juin 2019
One of the major challenges in nanotechnology is the precise control of shape, size and elemental composition of every single nanoparticle. Physical methods are able to produce homogeneous nanoparticles free of surface contamination.
Lire la suite