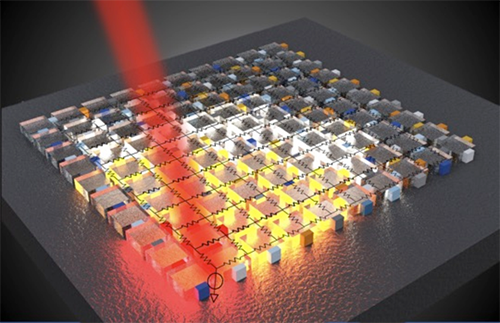 Analog photonic solutions offer unique opportunities to address complex computational tasks with unprecedented performance in terms of energy dissipation and speeds, overcoming current limitations of modern computing architectures based on electron flows and digital approaches.
In a new study published in the journal Nature Communications Physics (« Approximate analog computing with metatronic circuits »), researchers led by Volker Sorger, an associate professor of electrical and computer engineering at the George Washington University, reveal a new nanophotonic analog processor capable of solving partial differential equations.
Researchers at the George Washington University have developed a nanophotonic analog accelerator to solve challenging engineering and science problems, known as partial differential equations, in fractions of a second.
This nanophotonic processor can be integrated at chip-scale, processing arbitrary inputs at the speed of light.
Découvrez aussi
[Thin Films] – Green Thin Film Technology
25 octobre 2020
Thin film technology – the application of materials ranging between several micrometers and a fraction of a nanometer in thickness – is increasingly becoming a major focus of scientific and technological approaches to tackling climate change. A number of green thin film technologies are in use today or are being developed, from successful experiments with thin film biofilters to the growing use of thin film battery technology, and now to the mainstream application of thin film photovoltaics.
Lire la suite
[Graphene] – Does graphene cause or prevent the corrosion of copper? New study settles the debate
22 février 2020
Copper has been essential to human technology since its early days–it was even used to make tools and weapons in ancient times. It is widely used even today, especially in electronic devices that require wiring.
Lire la suite