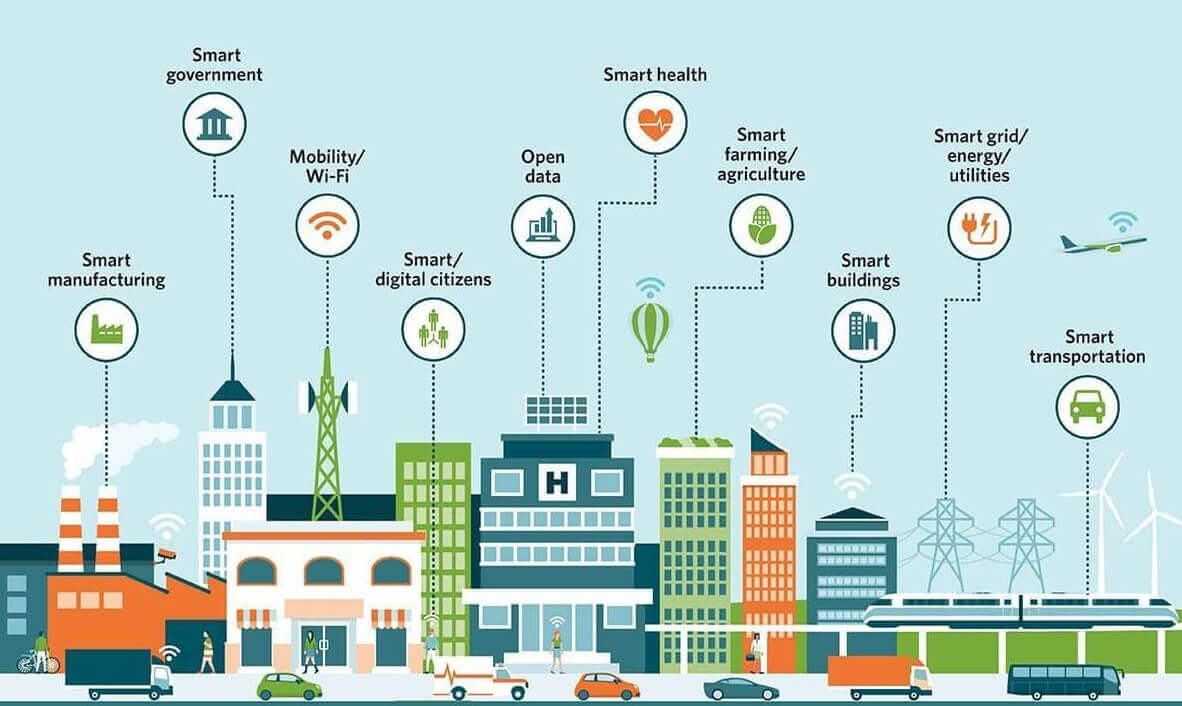 A smart city is an infrastructure framework that addresses the growing urbanization challenges by embracing integrated and automated information and communication technologies to help optimize all city operations, help achieve sustainability goals and better quality of life for its citizens
Generally, the development of smart cities requires more efficient and less polluting transport systems, more habitable residential buildings that require less energy to operate, establishment of better managed public services of all kinds (gas, water, electricity, waste disposal, etc.).
Working towards this goal involves developing and using technologies on several fronts. Some of the challenges are:
The development of lighter and more resilient materials whose manufacture requires less energy, for use in transportation or buildings;
The development of electric cars by designing new batteries or development of hydrogen technologies;
The design of vehicles and systems that allow automatic driving;
The design and manufacture of more resistant construction materials, capable of self-repair that remove air pollution, helping to purify the city's air;
The development of new building materials capable of photovoltaic energy generation, or able to filter light based on brightness;
The development of low-power lighting and signaling systems;
Establishing extensive networks of sensors that monitor traffic, parking spaces, waste disposal utilization, air pollution, the presence of pollen, the temperature, the number of pedestrians, the moisture content of soil in public parks, etc. in real time and with pinpoint accuracy;
The development of networked devices that are able to make decisions automatically and autonomously;
Support of control and observation tasks by system drones;
The development of systems for storage and processing of the huge amount of data collected in order to improve information systems, decision-making, power grid and water network management, the participation of citizens in city government, etc.
Just going through this list it becomes clear that the development of smart cities is linked to the development of new materials and devices, the use of sensor networks, the handling of huge amounts of data ('Big Data'), the development of communication networks between objects, decision-making ('Artificial Intelligence'), data security and decentralization ('blockchain'), and a range of other smart technologies. This leads to and integrates with new concepts such as Smart Roads and Smart Factories.
When it comes to nanotechnology and the development of new nanomaterials and nano devices that smart cities can benefit from, there are several areas that immediately stand out:
Millimeter- wave technology for 5G networks for virtual city-wide networks
Nanomaterials to be used in the construction of smart buildings
Tiny sensors or even smart dust to enable city-wide IoT
Smart windows to regulate buildings' indoor climate
Efficient, smart lighting systems
Energy-generating smart roads
High storage capacity batteries and ultracapacitors with fast loading times for electric vehicles and battery storage of renewable energy
Water purification and filtration
Smart phone hardware that enables smart city connectivity of inhabitants
Découvrez aussi
[Thin Film] – Carbon dioxide capture with nanometric thin-film membranes.
18 novembre 2021
The burning of fossil fuels like coal and oil pumps billions of tons of greenhouse gases into the atmosphere annually, changing the world's climate in the process …
Lire la suite
[Semiconductor] – A nanoscale gold butterfly can make its own semiconductor skin
23 février 2020
Hokkaido University researchers have devised a unique approach for making nanosized semiconductors on a metal surface. The details of the method were reported in the journal Nano Letters (« Localized ZnO Growth on a Gold Nanoantenna by Plasmon-Assisted Hydrothermal Synthesis ») and could further research into the fabrication of nanosized light and energy emitters.
Lire la suite