One of the major challenges in nanotechnology is the precise control of shape, size and elemental composition of every single nanoparticle. Physical methods are able to produce homogeneous nanoparticles free of surface contamination. However, they offer limited opportunity to control the shape and specific composition of the nano-objects when they are being built up.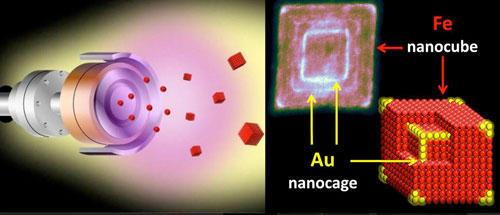 A recent collaboration between the University of Helsinki and the Okinawa Institute of Science and Technology (OIST) Graduate University revealed that hybrid Au/Fe nanoparticles can grow in an unprecedentedly complex structure with a single-step fabrication method.
Using a computational modelling framework, the groups of Professor Flyura Djurabekova at the University of Helsinki and Prof. Sowwan at OIST succeeded in deciphering the growth mechanism by a detailed multistage model.
legantly combined considerations of kinetic and thermodynamic effects explained the formation of embedded gold layers and the site-specific surface gold decoration. These results open up a possibility for engineering a multitude of hybrid nanoparticles for a wide range of emerging applications.
Their research was recently published in the open access journal Advanced Science (« Site-Specific Wetting of Iron Nanocubes by Gold Atoms in Gas-Phase Synthesis »).
"When nature surprises us with an unexpectedly beautiful pattern, we must recognize it and explain. This is the way to cooperate with nature that is always ready to teach and expecting us to learn," says Dr. Junlei Zhao, a postdoctoral researcher in the group of Prof. Djurabekova.
Nowadays, scientists are able to study nano-scale phenomena with great accuracy by using high-performance computational software and modern supercomputing infrastructures. These are of great support, not only for advancing fundamental science but also for finding promising solutions for many challenges of humanity.
Source: University of Helsinki
Découvrez aussi
[Photovoltaic] – If you want to catch more light, twist it
23 février 2020
A special class of materials known as "Weyl semimetals" have unusual physical properties. In these materials, researchers can separate electrons by their "handedness." That's whether the electrons' magnetic moment is in the same direction as the electrons' movement or the opposite direction.
This results in a host of unique phenomena that researchers can use to turn infrared light into electricity and develop very fast electronic circuits.
Lire la suite
[Solar cells] – Solar cells using quantum dots
21 février 2020
The development of next generation solar power technology that has potential to be used as a flexible 'skin' over hard surfaces has moved a step closer, thanks to a significant breakthrough at The University of Queensland (Nature Energy, « Ligand-assisted cation-exchange engineering for high-efficiency colloidal Cs1-xFAxPbI3 quantum dot solar cells with reduced phase segregation »).
Lire la suite