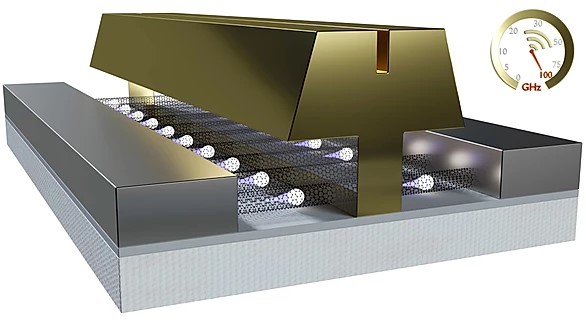 Carbon nanotube technology has for the first time achieved speeds exceeding 100GHz in-radio frequency (RF) applications. The milestone eclipses the performance – and efficiency – of traditional RF-CMOS technology that is ubiquitous in modern consumer electronics including cell phones. The news opens the door for this new technology to potentially provide a powerful boost for 5G and mm-Wave technologies.
The milestone was reported in the paper, "Wafer-scalable, aligned carbon nanotube transistors operating at frequencies of over 100 GHz," published this week in the journal, Nature Electronics. A separate commentary in Nature Electronics called the research "a remarkable technology milestone." The commentary concluded that, "We are now, finally, close to a tipping point in which nanotubes become a serious competitor to silicon in almost all areas of microelectronics."
For nearly two decades, researchers have theorized that carbon nanotubes would be well suited as a high-frequency transistor technology due to its unique 1-dimensional electron transport characteristics. The engineering challenge has been to assemble the high purity semiconducting nanotubes into densely aligned arrays and create a working device out of the nanomaterial.
As reported in this paper, Carbonics, a venture backed start-up, has successfully overcome this challenge and for the first time demonstrated device performance exceeding RF-CMOS in key RF metrics. Projections based on scaling single carbon nanotube device metrics suggest the technology could ultimately far exceed the top-tier incumbent RF technology, GaAs.
Carbonics employs a deposition technology called ZEBRA that enables carbon nanotubes to be densely aligned and deposited onto a variety of chip substrates including silicon, silicon-on-insulator, quartz and flexible materials. This allows the technology to be directly integrated with traditional CMOS digital logic circuits and overcomes the typical problem of heterogeneous integration.
"This milestone shows that carbon nanotubes, long thought to be a promising communications chip technology, can deliver," said Dr. Joe Qiu, Program Manager at the Army Research Office, who reviewed the research. "The next step is scaling this technology, proving that it can work in high-volume manufacturing. Ultimately, this technology could help the Army meet its needs in communications, radar, electronic warfare and other sensing applications."
"With this exciting accomplishment, the timing is ripe to leverage our CMOS-compatible technology for the 5G and mmWave defense communication markets. We are now engaged in licensing and technology transfer partnerships with industry participants, while we continue to advance this disruptive RF technology," said Carbonics' CEO Kos Galatsis. Carbonics believes that its ZEBRA technology will likely first be adopted in military applications before being used more broadly.
Découvrez aussi
[Nanotechnology] – Bending diamond at the nanoscale
23 février 2020
Diamond is prized by scientists and jewellers alike, largely for a range of extraordinary properties including exceptional hardness. Now a team of Australian scientists has discovered diamond can be bent and deformed, at the nanoscale at least.
Lire la suite
[Nanotechnology] – How Nanotechnology Could Accelerate China's Global Impact
3 août 2019
It's no secret that from a population and economic perspective, China is one of the modern-day superpowers, and its influence is likely to increase in the coming years. As it stands, China's population is the largest in the world and its economy has been growing by about 10% year on year for the last 40 years—most have which has been due to advances and innovations in the technology and manufacturing spaces. The benefits of this economic growth can also be seen in some of the societal impacts, such as an increased life expectancy. However, there are downsides to these advancements, with one of the biggest disadvantages being a significant increase in carbon dioxide emissions—and a subsequent negative impact on global warming and climate change.
Lire la suite