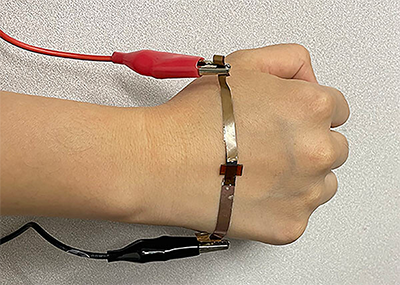 Graphene, hexagonally arranged carbon atoms in a single layer with superior pliability and high conductivity, could advance flexible electronics according to a Penn State-led international research team.
Huanyu "Larry" Cheng, Dorothy Quiggle Career Development Professor in Penn State's Department of Engineering Science and Mechanics (ESM), heads the collaboration, which recently published two studies that could inform research and development of future motion detection, tactile sensing and health monitoring devices.
Several substances can be converted into carbon to create graphene through laser radiation. Called laser-induced graphene (LIG), the resulting product can have specific properties determined by the original material. The team tested this process and published their results in SCIENCE CHINA Technological Sciences (« Effects of laser processing parameters on properties of laser-induced graphene by irradiating CO2 laser on polyimide »).
Samples of polyimide, a type of plastic, were irradiated through laser scanning. The researchers varied the power, scanning speed, number of passes and density of scanning lines
"We wanted to look at how different parameters of the laser processing process create different nanostructures," Cheng said. "Varying the power allowed us to create LIG either in a fiber or foam structure."
The researchers found that lower power levels, from 7.2 watts to roughly 9 watts, resulted in the formation of a porous foam with many ultrafine layers. This LIG foam exhibited electrical conductivity and a fair resistance to heat damage — both properties that are useful in components of electronic devices.
Increasing the power from approximately 9 watts to 12.6 watts changed the LIG formation pattern from foam to bundles of small fibers. These bundles grew larger in diameter with increased laser power, while higher power promoted the web-like growth of a fiber network. The fibrous structure showed better electrical conductivity than the foam. According to Cheng, this increased performance combined with the fiber's form could open possibilities for sensing devices.
"In general, this is a conductive framework we can use to construct other components," Cheng said. "As long as the fiber is conductive, we can use it as a scaffold and do a lot of subsequent modifications on the surface to enable a number of sensors, such as a glucose sensor on the skin or an infection detector for wounds."
Varying the laser scanning speed, density and passes for the LIG formed at different powers also influenced conductivity and subsequent performance. More laser exposure resulted in higher conductivity, but eventually dropped due to excess carbonization from burning.
Découvrez aussi
[Materials] – Unipolar barrier photodetectors based on van der Waals heterostructures
28 juin 2021
Photodetectors with blackbody response show significant applications in remote sensing and infrared imaging. However, up to now, few works have demonstrated excellent response to blackbody radiation (weak irregular radiation from a real object), which is essential to reliably evaluate their potential in practical detections.
Lire la suite
[Innovation] – Codex International R&D Programme
23 février 2022
Within the framework of the « France Relance – R&D job preservation plan », Codex International and the Université Polytechnique Hauts de France have signed a partnership, under the auspices of the MESRI (French Ministry of Higher Education, Research and Innovation) for the implementation of a materials R&D programme.
This ambitious programme focuses on the dual theme of lead-free functional inorganic materials: from material to thin film and on the development of piezoelectric materials in thin films.
Lire la suite