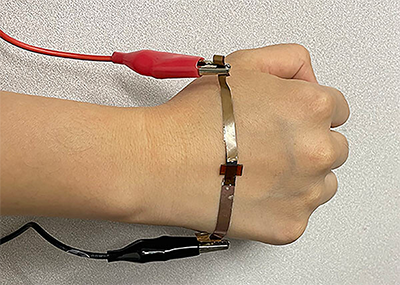 Graphene, hexagonally arranged carbon atoms in a single layer with superior pliability and high conductivity, could advance flexible electronics according to a Penn State-led international research team.
Huanyu "Larry" Cheng, Dorothy Quiggle Career Development Professor in Penn State's Department of Engineering Science and Mechanics (ESM), heads the collaboration, which recently published two studies that could inform research and development of future motion detection, tactile sensing and health monitoring devices.
Several substances can be converted into carbon to create graphene through laser radiation. Called laser-induced graphene (LIG), the resulting product can have specific properties determined by the original material. The team tested this process and published their results in SCIENCE CHINA Technological Sciences (« Effects of laser processing parameters on properties of laser-induced graphene by irradiating CO2 laser on polyimide »).
Samples of polyimide, a type of plastic, were irradiated through laser scanning. The researchers varied the power, scanning speed, number of passes and density of scanning lines
"We wanted to look at how different parameters of the laser processing process create different nanostructures," Cheng said. "Varying the power allowed us to create LIG either in a fiber or foam structure."
The researchers found that lower power levels, from 7.2 watts to roughly 9 watts, resulted in the formation of a porous foam with many ultrafine layers. This LIG foam exhibited electrical conductivity and a fair resistance to heat damage — both properties that are useful in components of electronic devices.
Increasing the power from approximately 9 watts to 12.6 watts changed the LIG formation pattern from foam to bundles of small fibers. These bundles grew larger in diameter with increased laser power, while higher power promoted the web-like growth of a fiber network. The fibrous structure showed better electrical conductivity than the foam. According to Cheng, this increased performance combined with the fiber's form could open possibilities for sensing devices.
"In general, this is a conductive framework we can use to construct other components," Cheng said. "As long as the fiber is conductive, we can use it as a scaffold and do a lot of subsequent modifications on the surface to enable a number of sensors, such as a glucose sensor on the skin or an infection detector for wounds."
Varying the laser scanning speed, density and passes for the LIG formed at different powers also influenced conductivity and subsequent performance. More laser exposure resulted in higher conductivity, but eventually dropped due to excess carbonization from burning.
Découvrez aussi
[MEMS] – Sensing the environment as with human senses
23 février 2020
What had long been considered as a vision of the future is now a reality – devices can detect their surroundings as if they were human senses and interact with them. Sensors close the gap to the digital world. Combined with appropriate software, smart devices and robots, for example, can see, hear, smell or feel and above all "intuitively understand" their environment, thereby simplifying our lives. The decisive factor here is the interpretation and linking of information from different sensors.
Lire la suite
[Material] – Researchers discover new two-dimensional material using high-pressure technology.
8 novembre 2021
Since the discovery of graphene, which is made of carbon atoms, interest in two-dimensional materials has grown steadily in research and industry…
Lire la suite