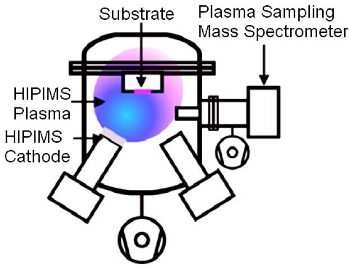 This article addresses the high power impulse magnetron sputtering (HIPIMS) deposition of silver (Ag)- nanoparticle films on polyester and draws comparison with films deposited through a direct current pulsed magnetron sputtering (DCMSP) method. Figure 1 shows a diagram of the HIPIMS setup, where Ag and the substrate polyester were used as cathode.
Inactivation of E. coli Bacteria
The first evidence is given for for the E. coli bacterial inactivation by HIPIMS sputtered polyester in comparison to Ag-polyester sputtered by the DCMSP method. When compared to the DCMSP sputtered layers, HIPIMS layers were considerably thinner and required a relatively lower Ag-loading in order to inactivate E. coli within the same time scale.
DCMSP-sputtered Ag-nanoparticle films were found to completely inactivate E. coli within a period of 2 hours having a content of 0.205% Ag wt%/polyester wt%. This sputtering was performed at 300mA for 160s. HIPIMS-sputtered at 5A for a period of 75s also resulted in complete inactivation of E. coli bacteria within 2 hours having a content of Ag 0.031% Ag wt%/polyester wt%. It was observed that the atomic rate of deposition with the HPIMS method was 2.7×1015 atoms Ag/cm2s, while the atomic rate of deposition through the DCMSP method was 6.2×1015 atoms Ag/cm2s.
During HIPIMS-sputtering, the scale of ionization of Ar+/Ar2+ and Ag+/Ag2+ was proportional to the applied target current, as established by mass spectroscopy. These experiments show considerable variations at the higher end of the currents applied during the course of HIPIMS sputtering, as shown by the ion-flux composition.
In order to ascertain the surface atomic concentration of C, O and Ag on the Ag-polyester, X-ray photoelectron spectroscopy or XPS technique were used. During the E. coli inactivation time, such surface atomic concentrations were followed to gain the evidence for oxidation of E. coli on the Ag-polyester. X-ray diffraction revealed that when compared to HIPIMS-sputtered Ag-clusters, Ag-metallic character for DCMSP appeared to sputter samples for a longer period of time, which resulted in Ag-clusters aggregates. HIPIMS-sputtered Ag-nanoparticle films on polyester include a lower amount of Ag and are thinner in comparison to DCMSP-sputtered Ag-nanoparticle films.
EQP Mass and Energy Analyzer
The mass spectrometer conected to the DC-magnetron gas chamber was used to perform mass spectroscopy analysis of ions within the chamber. This was followed by determining the Ag+, Ag2+ Ar+ and Ar2+ ions. With increasing current, the Ag+ gas phase increases and the Ar+ decreases, but Ag+-ions surpassed the amount of Ar+-ions at higher discharge currents. Figure 2 shows a transmission electron microscopy of Ag-poiyester fibers sputtered by HIPIMS at 5A for a period of 150s.
The outcome of this analysis is that HIPIMS discharges at 10A peak current, generating large amounts of Ag+-ions along a small quantity of Ag2+-ions.
Discover Also
[Nanotubes] – How Carbon Nanotubes Could Lead the Way in Next-Generation Smart Fabrics
3 November 2020
A growing demand for smart fabrics in different fields that not only serves traditional requirements of protection, safety, fashion, and convenience but also can adjust themselves according to the exterior environment has encouraged textile industries to work on next-generation smart fabrics.
Read more
[Nano-Medecine] – Structurally designed DNA star creates ultra-sensitive test for dengue virus
26 November 2019
By folding snippets of DNA into the shape of a five-pointed star using structural DNA nanotechnology, researchers have created a trap that captures Dengue virus as it floats in the bloodstream. Once sprung, the trap – which is non-toxic and is naturally cleared from the body – lights up. It's the most sensitive test for the mosquito-borne diseases yet devised.
Read more