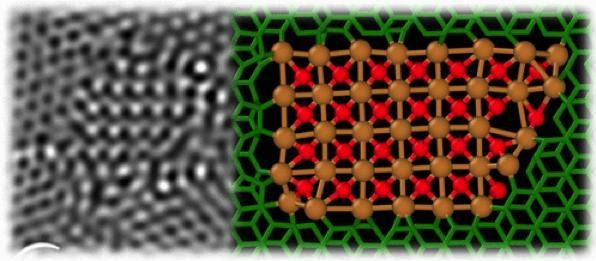 Researchers from Russia and Japan have discovered a way to stabilize two-dimensional (2D) copper oxide (CuO) materials using graphene. Apart from being the chief candidates for spintronics applications, these materials may be used in upcoming quantum computers.
Recently, the group of 2D materials was joined by a new class, the monolayers of oxides and carbides of transition metals, which have been the theme of wide-ranging theoretical and experimental research. These new materials are of significant interest to researchers because of their uncommon rectangular atomic structure and physical and chemical properties.
Researchers are specifically interested in a unique 2D rectangular copper oxide cell, which is not present in crystalline (3D) form, as opposed to several other 2D materials, whether familiar or discovered in recent times, which have a lattice akin to that of their crystalline (3D) equivalents. The key hindrance for real-world use of monolayers is their low stability.
A team of researchers from MISiS, the Institute of Biochemical Physics of RAS (IBCP), Skoltech, and the National Institute for Materials Science in Japan (NIMS) discovered 2D copper oxide materials with a rare crystal structure within a two-layer graphene matrix using experimental techniques.
Finding that a rectangular-lattice copper-oxide monolayer can be stable under given conditions is as important as showing how the binding of copper oxide and a graphene nanopore and formation of a common boundary can lead to the creation of a small, stable 2D copper oxide cluster with a rectangular lattice. In contrast to the monolayer, the small copper oxide cluster's stability is driven to a large extent by the edge effects (boundaries) that lead to its distortion and, subsequently, destruction of the flat 2D structure.
Alexander Kvashnin, Senior Research Scientist, Skoltech
He added, "Moreover, we demonstrated that binding bilayered graphene with pure copper, which never exists in the form of a flat cluster, makes the 2D metal layer more stable."
Copper oxide rectangular lattice's preferability to form in a bigraphene nanopore was established by the calculations carried out using the USPEX evolutionary algorithm formulated by Professor at Skoltech and MIPT, Artem Oganov.
The analysis of the physical properties of the stable 2D materials specifies that they are ideal options for spintronics applications.
Discover Also
[Photonic] – Plasmonic-Photonic Crystals Studied to Further Sensor, Laser Research
20 August 2019
As part of their research into optical states of plasmonic-photonic crystals (PPCs), scientists at Kazan Federal University investigated three-dimensional opal-like plasmonic-photonic crystals (OLPPCs), focusing on why OLPPCs do not admit light of certain wavelengths.
Read more
[Nanotechnology] – Semiconductors in Nanotechnology – How Does Getting Smaller Benefit Them?
12 August 2019
For the past several decades, scientists have been experimenting with the potential benefits that nanomaterials, particularly carbon nanotubes, could offer semiconductors. As researchers develop methods to further reduce the size of semiconductor materials, dramatic improvements in the physical and chemical properties of these materials continue to arise. In conclusion, minimizing the size of semiconductor materials has been shown to maximize the performance of semiconductors for their application in a wide range of material applications.
Read more