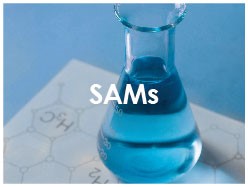 Self-assembled monolayers (SAMs) for Worked Function Engineering of Oxide Substrate
SAMs have been studied and used as hole-selective contacts for HTL-free p-i-n PSCs,
Most studies rely on their application of OPVs as interfacial modifiers for electron collecting cathode electrodes.
Discover Also
[Body-Sensors] – Direct printing of wearable health sensors onto skin
15 September 2020
Skin-interfaced, wearable electronics have attracted significant attention due to their unique roles in preventative monitoring, diagnostic confirmation, and convenient therapeutic options.
Read more
[OLED] – Organic semiconductors – No encapsulation needed for unprecedented stability
13 August 2019
Are organic semiconductors as good as silicon semiconductors ? Apparently they are even better! Prof. Thomas Weitz and colleagues at the Max Planck Institute for Polymer Research and at BASF are able to produce highly efficient organic thin film transistors.
Read more