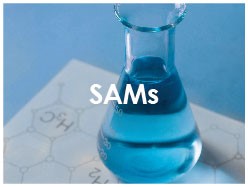 Self-assembled monolayers (SAMs) for Worked Function Engineering of Oxide Substrate
SAMs have been studied and used as hole-selective contacts for HTL-free p-i-n PSCs,
Most studies rely on their application of OPVs as interfacial modifiers for electron collecting cathode electrodes.
Discover Also
[OLED] – Graphene Ink and it's Possible Applications
12 August 2019
Graphene has been the focal point for many research projects in recent years. It has proved to be one the most diverse materials known to man and recently a team of researchers from Northwestern Engineering have stumbled upon a method of creating graphene ink while trying to discover a new method producing graphene.
Read more
[OLED] – Nanotechnology in Flexible Electronics
12 August 2019
Have you ever thought of substituting that huge backpack of textbooks with a single electronic paper sheet – keeping all that data on one device folded and kept in your wallet? What about a ride in a solar-powered vehicle stretched around you like skin?
Read more