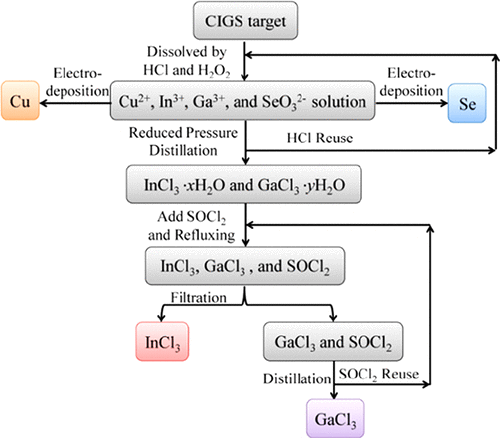 LE RECYCLAGE DES CIBLES DE PULVÉRISATION CIGS : une innovation Codex International.
Depuis plusieurs années, Codex International met au service de ses clients des solutions performantes de recyclage des cibles contenant les métaux précieux suivants : Au, Pt, Pd, Ir, Ru et Rh dont les taux de récupération (% yield) sont parmi les plus hauts du marché. Associées à un service « porte à porte » rapide et sécurisé, ces solutions sont appréciées par nos clients.
Une avancée majeure pour l'environnement et la maitrise des couts.
Fort de son expérience dans le recyclage métaux précieux, Codex International a développé un procédé innovant de recyclage de cibles CIGS usagées qui combine des techniques électrochimiques avec la déshydratation et la distillation.
Lire plus
La solution de lixiviation du CIGS a d'abord été soumise à un processus d'électrodéposition en deux étapes pour récupérer le Se et le Cu. Ensuite, la solution restante a été distillée pour recycler le HCl et cristalliser le InCl3 et le GaCl3.
Les hydrates ainsi obtenus ont été déshydratés par le SOCl2 à reflux.
Également, l'InCl3 anhydre a été récupéré et séparé du GaCl3 par une simple filtration, et ce dernier a été séparé du SOCl2 par distillation.
La récupération de l'In atteint 99,99 % avec une pureté de 4N5 tandis qu'environ 99,98 % du Ga est récupéré. 99,98 % du gallium a été récupéré avec une pureté de 4N. La récupération et la pureté sont les plus élevées à notre connaissance. Le processus de séparation a été conçu de manière rationnelle pour tirer pleinement parti de la différence de potentiel de tous les éléments et de la propriété de l'agent déshydratant. Il s'agit d'une méthode écologique, économique et pratique pour recycler efficacement les cibles CIGS usagés.
Discover Also
[Solar cells] – Solar cells using quantum dots
21 February 2020
The development of next generation solar power technology that has potential to be used as a flexible 'skin' over hard surfaces has moved a step closer, thanks to a significant breakthrough at The University of Queensland (Nature Energy, "Ligand-assisted cation-exchange engineering for high-efficiency colloidal Cs1-xFAxPbI3 quantum dot solar cells with reduced phase segregation").
Read more
[Optic] – Insect-inspired motion sensing
26 November 2019
Researchers at Oak Ridge National Laboratory and the National Renewable Energy Laboratory took inspiration from flying insects to demonstrate a miniaturized gyroscope, a special sensor used in navigation technologies.
Read more