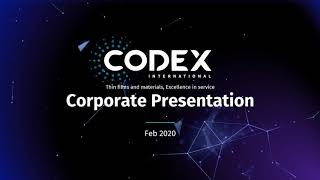 Codex International Corporate presentation
Discover Also
[Thin Films] – Green Thin Film Technology
25 October 2020
Thin film technology – the application of materials ranging between several micrometers and a fraction of a nanometer in thickness – is increasingly becoming a major focus of scientific and technological approaches to tackling climate change. A number of green thin film technologies are in use today or are being developed, from successful experiments with thin film biofilters to the growing use of thin film battery technology, and now to the mainstream application of thin film photovoltaics.
Read more
[Nano-Medecine] – New nanosensor detects cancer biomarkers in drop of blood
22 February 2020
Looking for cancer biomarkers in blood is a promising method for detecting metastatic cancer. It is less demanding than imaging techniques like MRI (magnetic resonance imaging). The main challenge to overcome is the extremely low concentrations of these markers making it difficult to detect them.
Read more