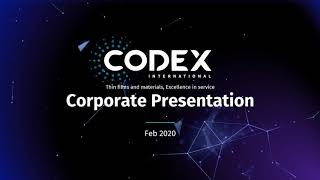 Codex International Corporate presentation
Discover Also
[Nanotechnology] – Nanotechnology Coatings to Combat the Spread of Coronavirus
25 October 2020
Scientists worldwide are trying hard to combat the spread of COVID-19 (novel coronavirus) with various technologies and approaches. Nanotechnologists are at the forefront of this vital mission, with one pioneering University of Houston scientist having already found an application for his research.
Read more
[Nano-Medecine] – Plant-based relatives of cholesterol boosts nanoparticle gene therapy
21 February 2020
Gene-infused nanoparticles used for combating disease work better when they include plant-based relatives of cholesterol because their shape and structure help the genes get where they need to be inside cells.
Read more