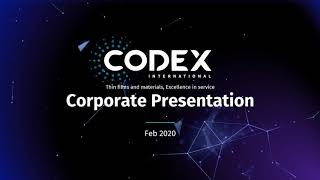 Codex International Corporate presentation
Discover Also
[Thin Films] – Nanoparticle Decoration of Carbon Nanotubes by Sputtering
11 August 2019
Carbon nanotubes (CNTs) that have been decorated with nanoparticles are effective biological and chemical sensors, photovoltaics, electronic conformal thermal interface substances, and surfaces for heterogeneous catalysis. The particle structure of the sidewalls of the CNT has an effect on the performance and properties of metal-nanotube hybrids for these types of applications.
Read more
[OLED] – Nanotechnology in Organic Photovoltaics
12 August 2019
Developing clean alternatives to nuclear and fossil energy is essential for the growth of sustainable economies. One of the most attractive alternatives is photovoltaic (PV) technology, using the almost limitless power of the sun to generate electricity.
Read more